Luxury Vinyl Maintenance
BASIC MAINTENANCE IS IMPORTANT.
Your luxury vinyl flooring is not only beautiful, but it is also highly durable and waterproof. As far as cleaning goes, nothing beats the ease of luxury vinyl flooring. It only takes a few simple maintenance steps to keep your flooring looking great for years to come. When cleaning luxury vinyl flooring, use a broom to remove loose dirt. Damp-mop as needed with clean water and a nonabrasive floor cleaner. Never use vinegar, acetone, or lacquer thinner to clean these floors. Harsh cleaning chemicals should not be used on luxury vinyl flooring. Spills should be cleaned up immediately. For spot stain treatment, use a diluted bleach solution that is one-part bleach to ten parts water. Floors should never be flooded with water or be allowed to have standing water. This can loosen the adhesive.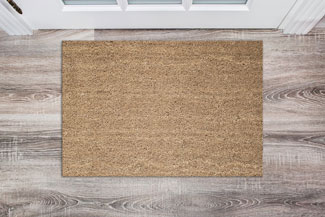 USE PROTECTIVE MATS.
Place mats outside all entrances and exits and make sure to clean them on a regular basis. They will absorb soil and moisture and trap excessive dirt and grit. Mats that are 100% latex-backed should be used. Do not use mats with rubber backing, as they can discolor the flooring.
USE CAUTION WHEN MOVING FURNITURE.
Ensure furniture legs have large surface, non-staining plastic floor protectors or non-staining felt pads under them to protect your flooring. Any appliance or piece of furniture that is heavy and rarely moved should have flat furniture cups or casters that are non-staining and the appropriate size. Mobile appliances should have casters that swivel easily.
SUNLIGHT PROTECTION.
Keep window coverings closed during the day when there is heavy sunlight. Luxury vinyl floors can fade or get discolored if overexposed to the sun.
BE CAREFUL OF YOUR FEET.
Avoid wearing stiletto-style heels, cleats, or spiked golf shoes on your flooring. They may cause scratches and indentations.